BOND FEST IN THE CITY
Fifty years of James Bond are celebrated in a major exhibition opening at the Barbican in the City of London this Summer.
Our hero's weapons and gadgets,props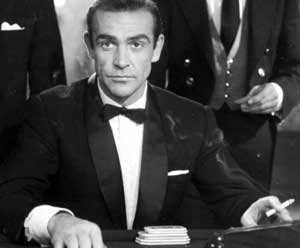 and costumes have been brought together in a grand presentation that will take fans behind the scenes of the James Bond movies, spotlighting the cars, the sets, stunts and locations that have made this the number one movie brand.
Though Sean Connery continues to set the bar for many fans, later Bonds in the shape of Roger Moore, Pierce Brosnan and now Daniel Craig have set their own style upon the character, aided by successive tailors.
Tony Sinclair was the Savile Row tailor who created the original style for Connery,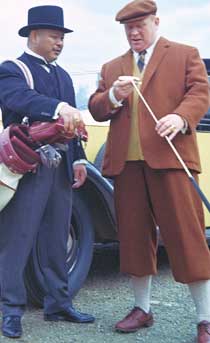 Douglas Hayward a later London name. But with the phenomenal success of the films and the growth of product placement, Bond came to be dressed by a range of high flying designer names, from Armani and Brioni to Roberto Cavalli and Tom Ford.
Working with EON Productions, producers of the movies, the Barbican has been given unprecedented access to their archives, so that this event aims to cover the creation and development of the Bond style over the years.
Designed by Ab Rogers, it has guest-curator and fashion historian Bronwyn Cosgrave and Lindy Hemming, Oscar-winning costume designer to thank for its costume coverage. This includes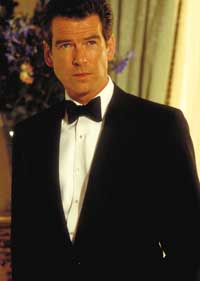 some of the stunning female outfits as well as Bond's and those of the great villains.
There will Q's cunning gadgets, those fantastic cars, the silver Jaws and details on stunts and locations, graphic designs and props. It is a Bond fest.
Opening on July 6 through to September 5, booking in advance advised, www.barbican.org.uk/bond
Top, the iconic image of Bond in dinner jacket, as played by Sean Connery, in the very first of the movies, 'Dr No'. released in 1962. He made the role his own over five more Bond's.
Pierce Brosnan took up the role in 'Golden Eye'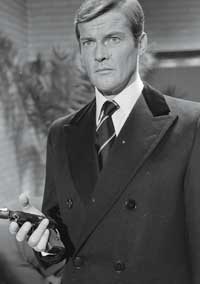 in 1985 and went on to star in three more – 'Tomorrow Never Dies', 'The World is Not Enough' and 'Die Another Day', before being ousted by Daniel Craig, the present Bond. He has appeared in 'Casino Royale' and 'Quantum of Solace', and this year's 'Skyfall'.
Roger Moore, right, starred in seven of the films, making him the most capped Bond. Other actors along the way included David Niven, George Lazenby and Timothy Dalton.
Fantastic villains from 'Goldfinger' at top – Oddjob, with his razor edged bowler, and Goldfinger.
Photographs © Danjaq, LLC and United Artists Corporation. All rights reserved.