RIDING HIGH on the crest of a wave of conspicuous spending - boosted, no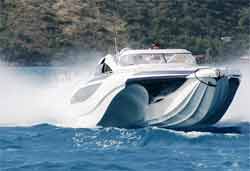 doubt, by those City bonuses - business seemed pretty jaunty at the London Boat Show early in the year. Enthusiasts clambered over one gleaming yacht after another, pouring over specifications and luxury fittings. This is one of the models given a dry run, the latest Bladerunner from Beneteau. See Yachts page for feature.
BOATS at the Boat Show might have been high and dry but the stands were awash with Champagne. And just to confirm our taste for fizz and other wines, VINEXPO, the major event for wines and spirits, released figures showing consumption was on

the up. At a rather drier presentation than the boating venue, the latest statistics show that the UK will be Europe's biggest wine market by the year 2010. More information on what and how much we drink on Drinks. Waterford glass,right, by Jasper Conran
TRAINS are taking the strain: More and more travellers are switching to Eurostar, as fears over terrorism, delays due to security and recent foggy weather in London have had their effects, according to figures just released by Eurostar for 2006. And with growing concern over pollution for aircraft, it is a trend that can only continue to grow. See details on Travel.
MOTOR RACING for novices - a full package is on offer from Martindales, the company that puts on the Uniroyal Fun Cup series,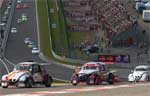 providing everything from clothing through racing in a single seater racing car and seats for Silverstone, Brands Hatch and other circuits. For enthusiasts, see Cars.
GOLFERS no longer simply hit the ball and hope: The latest technology incorporated into SkyCaddies provides information on the distance to the green, angles, hazards and other details likely to effect results. Hardly seems cricket. See Sport.